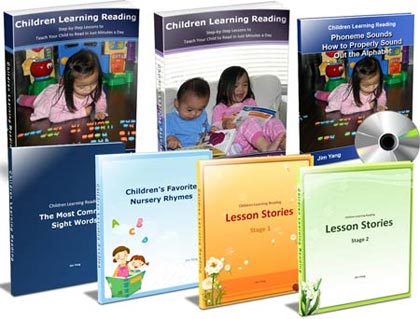 Hi there! I'm Jim, the creator of the Children Learning Reading program, and my goal here is to give you a detailed overview of our program, and show you how and why it works so well at teaching young children to read. First, a little bit about me and my children. Teaching small kids to read and enhancing their early development has always been an interesting topic for me, and it's something that I've spent countless hours researching, reading about, and "doing" with my own kids. We began teaching our oldest child, Raine, to read when she was 2 years 8 months old, and she had learned to read phonetically after about 3 months of 10 minute daily lessons. The 2 important words here are "reading phonetically" - where she has acquired the ability to effectively decode printed text. This is quite different from word shape "memorization" and sight word memorization, which tends to produce poor readers. Plenty of research have indicated that teaching phonemic awareness and phonics is far superior to the whole language method. Let me show you a short video clip of our daughter reading at 2 years 11 months old:
2 years later, we began teaching our 2nd child, Ethan, to read with the same techniques and methods - he was 2.5 years old when we started. Not surprisingly, he was reading at a similar level as his older sister after 11 weeks of reading lessons. Below we have 2 short videos to share with you. The first shows his 4 and 8 week progress, and then another showing his reading progress at week #11:
(HD quality available for this video.)
By the time his older sister Raine was 4 years 2 months old, she was already reading at a grade 3 level with a reading age of 9 years. Here, I have one more short video to show you:

How Does the Program Work?
How can a 2 or 3 year old child learn to read and decode so well? Can any normal 2 or 3 year old learn to read like that?
Certainly yes.
Our reading program was designed to make it possible to allow parents to teach their young children to read. Children Learning Reading is quite different from most other reading programs that you might find, which rely on using the television or computer programs to teach your child to read. Instead, our system is a complete program that first educates and teaches the parents how to effectively teach reading. Instead of just sitting your toddler in front of the TV or computer screen, our program actually requires a small time investment by the parents - typically around 10 to 15 minutes per day. What would you rather do: sit your child in front of the "idiot box" for hours on end, or spend 10 to 15 minutes of exceptionally rewarding time bonding with and teaching your child to master reading?
If you are not willing, or cannot make the small time investment required each day to teach your child, then our program is not for you. However, if you believe that spending 10 to 15 fruitful minutes a day with your child is the right way of teaching reading to a toddler, then our program is just what you need. There are what I call the two key pillars of our reading program, which are phonemic awareness and synthetic phonics. The 50 step-by-step lessons in Children Learning Reading are designed to allow you to easily and effectively help your child develop phonemic awareness and at the same time help your child gain a mastery over print and decoding through synthetic phonics instructions.
Our program comes in two e-books containing 2 stages of lessons. In it, you will learn exactly how to teach lessons to your child; you will discover key techniques and methods of how to teach your child to read and to get your small toddler to cooperate. Perhaps one big stumbling block for many is getting young kids to cooperate, and indeed, it's no easy task to get a 2 or 3 year old to sit down with you and work through lessons. Our program contains an entire section with effective tips and ideas on getting cooperation from your child.
We also include great bonuses such as colorful stories and rhymes to go along with many of the lessons. You also receive our complete set of MP3 audio clips demonstrating how to exactly sound out the letter sounds so that you will know how to teach your child. You won't find any other program out there that goes to such great length to make it so simple and straightforward for parents to teach their kids to read. Don't just take my word for it. We've helped thousands of parents to successfully teach their little ones to read, see what they have to say below.

Children Learning Reading Customer Reviews
The following are just a handful of the hundreds of customer reviews and feedbacks we've received from happy parents - parents like you, who have used our program to successfully teach their child to read.